We Can Supply and fit Powerflex bushes.
To Find out prices and additional Information of the Bushes please look on the website:
If you would like these Items fitting please contact us below:
email: alan@atmotors.co.uk
Tel: 01915813182
POWERFLEX – NO.1 SUSPENSION BUSHES IN EUROPE!!
EPTG Ltd (European Polyurethane Technologies Group) was formed in the UK in 1996 to take advantage of the significant advances made in the development of polyurethane in recent years.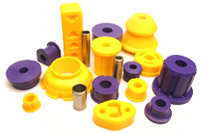 The company has wide experience of automotive suspension and chassis systems and combining these design skills with advanced polyurethane manufacturing techniques led to the development of the wide range of high performance automotive polyurethane components now known the world over by the product name POWERFLEX.
.
The company operates in a self-contained state of the art factory, manufacturing everything in-house.
The stainless steel components are machined on the latest computer controlled equipment to ensure perfect repeatability and quality.
The moulding and tooling, design and manufacturing is carried out within the factory ensuring very rapid response time to special projects and complete communication between development, prototyping, testing and manufacturing departments. Component manufacturing is carried out with the latest automatic processing equipment ensuring 100% right first time quality. Testing of new components is carried out both on the vehicle and on test rigs.
POWERFLEX were selected to receive a Queen's Award for Enterprise International Trade 2013 and in December 2014 accredited to ISO 9001 as a manufacturer underlining their quality and stature as a global exporter.
For those unfamiliar with this it is an international standard to show that the company operates to a system of quality procedures.
For smaller companies this can be straightforward but for a company of our size with complex manufacturing and over 2500 part numbers, it is a big achievement especially as this was done with no major changes to our rigorous quality procedures.
We were awarded this on our first assessment inspection with no changes or recommendations to the way the business operates. This is a testament to the way we run the business and especially the people within it.
All of these factors combined make POWERFLEX the number one selling performance bushes in Europe.
---
SPECIAL MANUFACTURING
The special type of polyurethane we use is an advanced material which has unique properties. Our products have the ability to offer high performance without vibration or noise but with exceptionally long life.
In addition to our "standard" range of bushes, which we publish, we also manufacture many special components for original equipment car companies and also industrial applications.
Because of our manufacturing facility and wide experience with suspension components we can design and manufacture very quickly bushes and other parts, specially for you.
We manufacture special parts for a number of non automotive industries. These include marine parts for corrosion protection, shock absorber mounting bushes, sound absorbing mounting pads, train door mechanisms, rollers, mounting blocks etc.
WHY POLYURETHANE SUSPENSION BUSHES?
Time to do some sums…
Polyurethane has been with us as a specialised plastic for some thirty years. However recent advances have now made it possible to engineer very special properties into this exciting material. Suspension bushes are some of the most highly stressed components fitted to a motor car. They undergo enormous strains and in the most arduous of conditions with no maintenance or lubrication.
The material they are manufactured from is a rubber compound containing natural products which deteriorate with age. It becomes softer and more pliable, resisting the forces placed on it less and less. Therefore allowing more and more movement of suspension components and offering less and less control over the suspension geometry.
This in turn causes accelerated tyre wear, braking instability and poor handling. This is the single biggest reason you can instantly tell the difference driving a three year old car compared to a showroom new one. However even new cars will benefit from POWERFLEX bushes because of their superior design they offer much more effective control of the suspension components to a much greater extent than normal rubber items.
POWERFLEX for prolonged tyre life.With the technological advances in this material it has been possible to overcome the common problem associated with harder bushes which is increased noise. By correctly engineering the polyurethane compound, bushes can be made 25-30% stiffer than new rubber items but with exactly the same noise absorbing properties.
POWERFLEX bushes make sense.
POWERFLEX for improved performance.
POWERFLEX for increased safety.
Visit The POWERFLEX Website  www.powerflex.co.uk